Trinity Air Conditioning Heating & Cooling
Trinity is a lovely community, but the weather isn't always friendly. Our customers experience long, hot summers with temperatures hovering around 90°F. Then, there are winter nights when the temperature drops to below freezing.
It's safe to say that your AC is always hard at work. And when it's fairly used, it gets a fair share of wear and tear.
If your AC is causing you problems, call FL-Air Heating & Cooling at 813-800-2665. We'll go to your place, diagnose the problem, and get your AC up and running again!
Do You Need an AC Repair in Trinity?
Here are some tell-tale signs you need to call our technicians and schedule a visit:
You hear weird noises from the AC
Your AC is giving off an unusual smell
There's leakage from the system
Your electricity bills are unusually high
The indoor air quality is poor
Even if you don't encounter these signs, if your AC no longer cools down your home correctly, it might also need a repair.
AC Repairs by Trinity's Best Technicians
FL-Air Heating & Cooling has assembled the best technicians in the area. You don't have to worry about finding skilled repair contractors to restore your AC to working condition.
We perform an overall inspection to identify the cause of the problem.
We check for water dripping in the system, like leakage from tubes or pipes. Our technicians will drain it and fix the cause.
We also remove clogs in the drain to enable proper airflow.
We inspect worn-out or damaged parts and apply the proper fixes.
Our technicians will advise you on running your unit so you can get the most out of it and extend its service life.
We offer affordable service six days a week. Our hours are:
Monday through Friday: 7 AM to 7 PM
Saturday: 8 AM to 6 PM
Sunday: Closed
After Hours Appointments Available - Please call 813-800-2665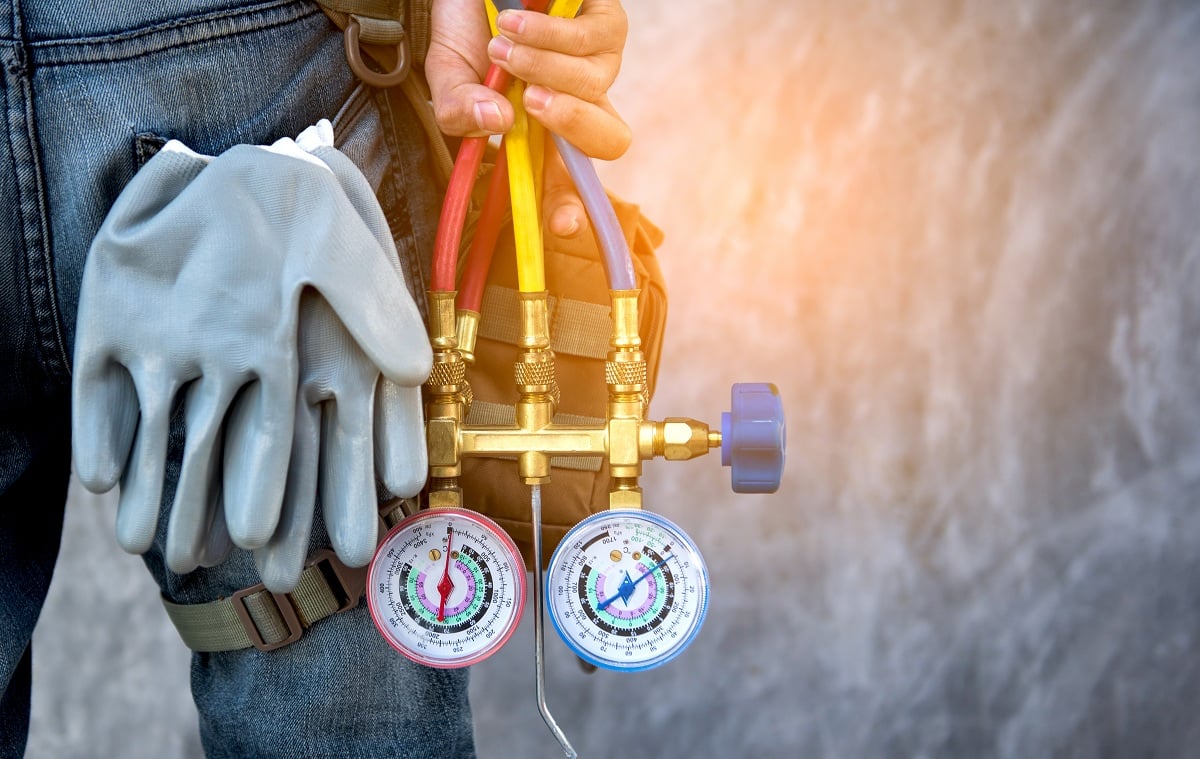 Why choose FL-Air Heating & Cooling
Our Trinity customers never have to choose between price and quality. We repair your AC unit efficiently at a competitive price. You get professional advice from certified technicians, and we are available round-the-clock.
Seasoned Technicians
Our technicians have years of experience fixing different kinds of AC units, from those used in small homes to equipment powering a commercial space.
Repair Work with Integrity
We never cut corners when fixing an AC unit in Trinity. We understand that the safety of your family or customers is at stake. We will get the unit running, so you can enjoy a comfortable home or business space.
Free Estimate
Once we inspect your unit, we will give you a free estimate on the AC unit/ducting replacement & duct cleanings. And we have no hidden charges.
Free Second Opinion
If another AC company has been out to your home but left you unsatisfied, contact us for a free second opinion. Our technicians are laser focused on providing honest recommendations that properly identify & correct any and all HVAC issues you may have.
Flexible Services
If you're not sure whether you need a repair or a replacement, give us a call, and we'll tell you the best option. Apart from repairs, we also install AC units from affordable but high-quality brands. We provide maintenance plans. FL-Air Heating and Cooling is an all-around one stop HVAC company.
Get your free quote today. Call us at 813-800-2665 or contact us via our website to schedule a repair.
Hundreds of 5 Star Reviews
Excellent5.0★★★★★ Based on 524 reviews from review us on
sonia deyampert ★★★★★ Exceptional service!Always 5-star service from any technician that performs work.I highly recommend this company for all of your HVAC needs. Does not matter which technician who performs the service, it's always top quality. Their work is guaranteed and if you have an issue they are very responsive and reasonablely priced.Response from the ownerThank you, Sonia. We are very focused on providing our customers with a second to none customer service experience at an affordable cost. We are glad to hear Gage did a great job & are proud to have earned your business!
Jose Serrano ★★★★★ My A/C was over flowing water I called and made an appointment even though a tech could come out that afternoon. The tech came the following day check the unit and was able to determine that the drainage was clogged, he unclogged and it is working at 100% again. The technician did a great job in resolving the issue and provided some tips as to avoid having this problem again. Based on my experience I recommend.Response from the ownerThank you, Jose. We appreciate your feedback and your business!
Mary Fritsch ★★★★★ We had an issue on a late Saturday afternoon and they responded and helped us with our issue. We then scheduled a maintenance appt. we are now on a maintenance program that works for us. Everything was explained to us and answered all questions we had. Could not ask for nicer and reasonable personnel. Highly recommend.Response from the ownerThank you, Mary. We are happy to hear that you are part of our biannual maintenance plan & are proud to be your chosen HVAC solutions provider. We appreciate your business and your feedback!
Debbie Viscount ★★★★★ My experience with FL-Air Heating & Cooling has been awesome. The technicians take their time, are very honest, and through in their workmanship. Robert J came today for our semi annual maintenance. He saw many areas that needed attention and went the extra mile to secure some air handler insulation and showed me areas to monitor. Recommend strongly.Response from the ownerThank you for the 5-star review, Debbie. We value your feedback and your business!
Repairs / Service
Is your equipment failing to keep the set temperature, or worse, not working at all? Our highly knowledgeable technicians are available to diagnose and fix any and all of your HVAC troubles!
Maintenance
We offer one-time maintenance or a bi-annual service agreement to keep your HVAC system in working condition. It's to make sure that you get the most out of your heating and cooling system and that it remains energy-efficient all the time. You also prevent common issues from developing. Schedule a maintenance routine today.
Indoor Air Quality
We offer proactive indoor air quality solutions, like air purification and ultraviolet lighting, to increase the quality of indoor air and safeguard the health of your family and pets. We also perform basic to advanced cleaning to get rid of common air quality problems (low efficiency, high energy bills, etc.).
Estimates
As a trusted HVAC contractor in Tampa, we offer free estimates of your work at competitive prices. Just call our technicians, and we'll assess your problem and give you a free quote. Whether you have suspiciously high electricity bills, unreasonably hot bedrooms, or leaking ducts, we would know how much it will cost you.
Free Second Opinion
If you have already consulted other air conditioning companies, but still feel unsatisfied or have many questions, our technicians will give you a free second opinion! Our team has years of experience in all kinds of heating and cooling systems so we will give you professional recommendations on your HVAC equipment.
Pinellas County
Bay Pines
Clearwater
Crystal Beach
Dunedin
Oldsmar
Ozona
Safety Harbor
Hillsborough County
Apollo Beach
Balm
Dover
Durant
Gibsonton
Lithia
Mango
Plant City
Riverview
Ruskin
Seffner
Sun City
Sun City Center
Sydney
Thonotosassa
Wimauma
Pasco County
Aripeka
Crystal Springs
Dade City
Holiday
Hudson
Lacoochee
New Port Richey
Port Richey
Saint Leo
San Antonio
Spring Hill
Trilby
Zephyrhills
Hernando County
Aripeka
Brooksville
Spring Hill
Timber Pines
Weeki Wachee