Need help with your heating, ventilation, or air conditioning (HVAC) system purchase? Here at FL Air Heating & Cooling, part of our commitment to outstanding customer service, quality, and integrity includes connecting you with the financing you need. We have teamed up with Synchrony Financial and Ygrene Energy Fund to provide convenient options for monthly payments and offer a quick, easy application process.
Low payments as low as $50 per month with $0 down
0% interest, $0 down for up to 60 months
We have built relationships with Synchrony Financial and Ygrene Energy Fund to create convenient, simple financing options for AC, ventilation, and heating equipment:
Financing From Synchrony Financial
For over 80 years,
Synchrony Financial
 has helped its customers get the most out of their every dollar. Its subsidiary Synchrony Bank offers award-winning rates with the protection of FDIC Insurance, along with excellent perks and rewards for its loyal customers. Access and convenience are also guaranteed by the Bank's intuitive and secure online and mobile platforms.
For homeowners, HVAC financing is one of Synchrony Financials primary offerings. Click the button below to begin the application process for Synchrony Financial.
Expand your purchasing power with Promotional Financing through Synchrony.
Synchrony is one of the nation's premier consumer financial services companies. Our roots in consumer finance trace back to 1932, and today we are the largest provider of private label credit cards in the United States based on purchase volume and receivables.
A simple application process, and fast credit decisions
Unsecured, revolving credit lines
Promotional financing options1
Convenient monthly payment options
Online account management
1Subject to credit approval. Minimum monthly payments required. See store for details.
For all promotions: Qualifying purchase must be made with your Home Design credit card issued by Synchrony Bank and a $29 account activation fee will apply and be charged at the time first purchase posts to account. For new accounts: Purchase APR is 26.99%; Minimum Monthly Interest Charge is $2. Existing cardholders should see their credit card agreement for their applicable terms. Subject to credit approval.

Financing From Ygrene Fund
Ygrene offers an alternative way to finance energy-efficient and renewable energy upgrades for residential and commercial properties in California, Missouri and Florida. Depending on where your property is located, it may also be eligible for upgrades that help conserve water and protect against storm damage.
As a leading Property Assessed Clean Energy (PACE) provider, Ygrene allows you to leverage the equity in your property to make it even better. Ygrene offers unique advantages including low, fixed rates, no upfront costs, and no repayment penalties. Because Ygrene financing is an assessment on your property and not a loan or discount program, it is repaid annually with your property taxes. Approvals are based primarily on home equity.
Click the button below to begin the application process for Ygrene Financial.
Ygrene vs. Credit Based Financing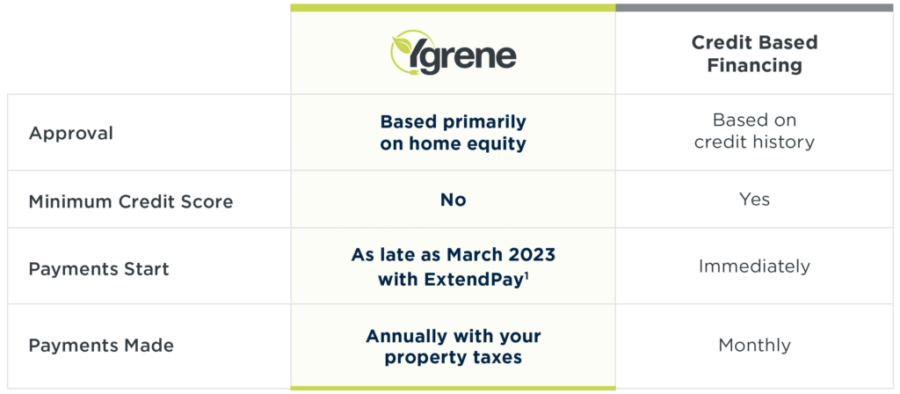 1While Ygrene does not consider your credit score, we will pull your credit during underwriting in order to determine your eligibility. 2Terms of 10, 15 and 20 years are valid in all Ygrene service areas; 25 and 30 year terms are available depending on service area as well as type and estimated useful life of the improvement. 3Subject to underwriting guidelines and approval; timing of first payment depends on date of funding, interest accrues after funding. ExtendPay will add an additional 12 months of capitalized interest in your total financed amount which must be repaid with your financing. Ygrene is not a government program.