RA16AZ Endeavor Line Classic Plus Series iM Air Conditioner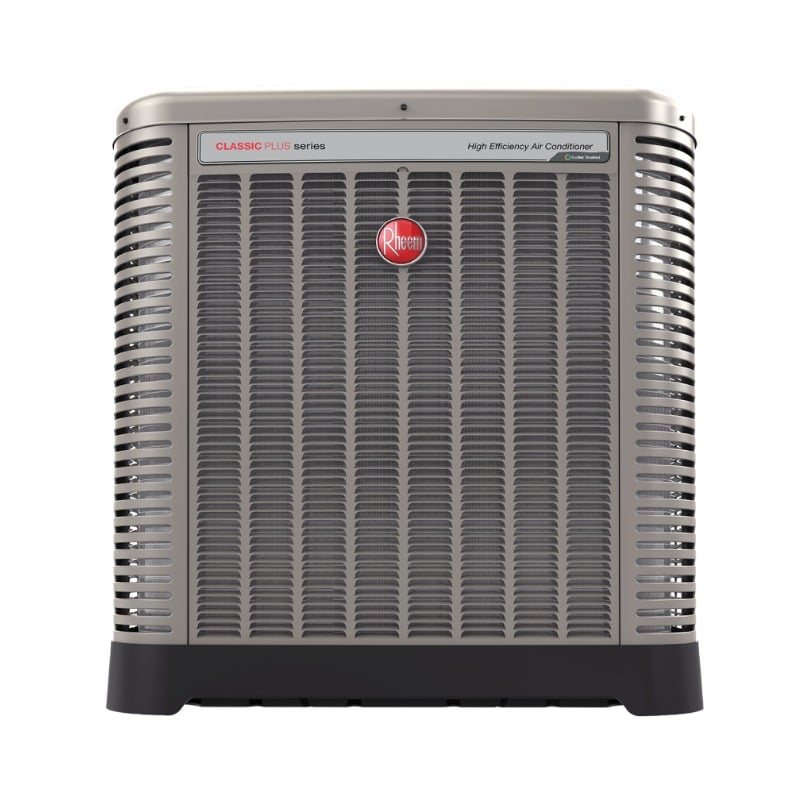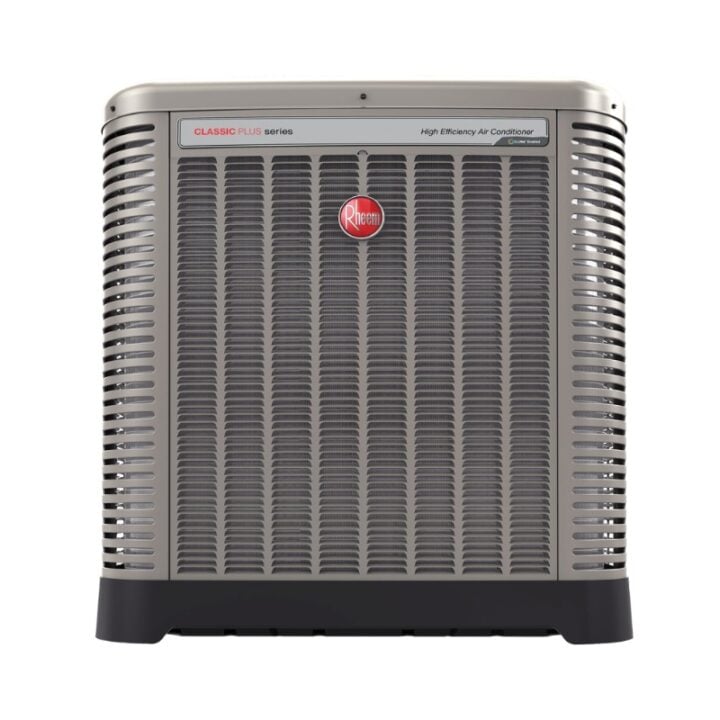 Features
EcoNet Enabled
Cooling Efficiencies: up to 17 SEER2 / 10.5 EER2
Nominal Sizes: 2 to 5 Tons
Cooling Capacities: 23.5 kBTU to 56 kBTU
Overview
Peace-Of-Mind Performance
You can relax knowing that your Rheem equipment is covered by one of the most reliable warranties in the industry. It includes a 10-year parts warranty and a 10-year conditional unit replacement warranty.
Energy Savings
Similar to a vehicle's MPG, the efficiency of your Rheem air conditioner is determined by its SEER2 and EER2 rating (Seasonal Energy Efficiency Ratio / Energy Efficiency Ratio), which can lead to significant energy savings each month. However, other factors, such as system matching, sizing, ductwork, and installation, are crucial in determining overall efficiency.
Precise Comfort
Inverter-driven, variable speed, twin rotary compressor technology features cooling operation between 40% and 70% of capacity (ramping up to 100% when required) to continuously meet your ever-changing cooling needs. You'll enjoy exact temperature and advanced humidity control that combine to exceed your comfort expectations.
Less Environmental Impact
The 7mm condenser coil provides a decrease in refrigerant requirements by up to 15%, lowering the amount of greenhouse gases emitted while contributing to Rheem's sustainability goal of a 50% reduction in our greenhouse gas footprint by 2025. A win for all of us.
Quiet Operation
Enjoy efficient and quiet home comfort with our thoughtfully designed air conditioners. Rheem air conditioners are equipped with sound-dampening features, including a refrigerant tubing design, fan blade approach, composite base pan, and innovative compressor and drive technologies. Experience maximum efficiency and minimal noise for a truly comfortable living space.
Specifications
Dimensions
| | |
| --- | --- |
| Product Depth (in.) | 29.75" - 35.75" |
| Product Height (in.) | 27" - 31" |
| Product Width (in.) | 29.75" - 35.75" |
Details
| | |
| --- | --- |
| Fuel Type | Electric |
| SEER2 | 17 |
| EER2 | 10.5 |
| Tonnage | 2 - 5 |
| Sustainable | Yes |
| Primary Warranty | 10 Yrs |
Limited Warranty Information
Conditional Unit Replacement (Registration Required): Ten (10) Years
Parts: Ten (10) Years
Up to $100 in Rebates Available
Your Trusted Rheem HVAC Installation Service
Living in the hot and humid climate of Tampa, a dependable air conditioning system is a must-have. When it comes to HVAC installation and replacement services in the Tampa Bay area, FL-Air Heating & Cooling is the go-to company you can trust. Our team of skilled technicians has the experience, knowledge, and expertise to handle any residential or commercial HVAC task. Whether you require a new air conditioning unit or need an old system replaced, we are here to assist you.
At FL-Air Heating & Cooling, we pride ourselves on providing quality HVAC installation and replacement services tailored to your needs and budget - Call Us Today at 813-800-2665 to schedule a free estimate.
Hundreds of 5 Star Reviews
Excellent5.0★★★★★ Based on 524 reviews from review us on
sonia deyampert ★★★★★ Exceptional service!Always 5-star service from any technician that performs work.I highly recommend this company for all of your HVAC needs. Does not matter which technician who performs the service, it's always top quality. Their work is guaranteed and if you have an issue they are very responsive and reasonablely priced.Response from the ownerThank you, Sonia. We are very focused on providing our customers with a second to none customer service experience at an affordable cost. We are glad to hear Gage did a great job & are proud to have earned your business!
Jose Serrano ★★★★★ My A/C was over flowing water I called and made an appointment even though a tech could come out that afternoon. The tech came the following day check the unit and was able to determine that the drainage was clogged, he unclogged and it is working at 100% again. The technician did a great job in resolving the issue and provided some tips as to avoid having this problem again. Based on my experience I recommend.Response from the ownerThank you, Jose. We appreciate your feedback and your business!
Mary Fritsch ★★★★★ We had an issue on a late Saturday afternoon and they responded and helped us with our issue. We then scheduled a maintenance appt. we are now on a maintenance program that works for us. Everything was explained to us and answered all questions we had. Could not ask for nicer and reasonable personnel. Highly recommend.Response from the ownerThank you, Mary. We are happy to hear that you are part of our biannual maintenance plan & are proud to be your chosen HVAC solutions provider. We appreciate your business and your feedback!
Debbie Viscount ★★★★★ My experience with FL-Air Heating & Cooling has been awesome. The technicians take their time, are very honest, and through in their workmanship. Robert J came today for our semi annual maintenance. He saw many areas that needed attention and went the extra mile to secure some air handler insulation and showed me areas to monitor. Recommend strongly.Response from the ownerThank you for the 5-star review, Debbie. We value your feedback and your business!